Reinventing Now – Is Your Brand a Beacon?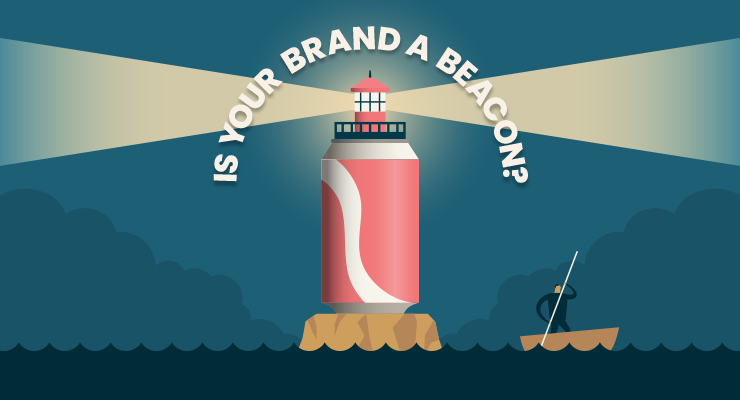 Your brand's purpose is bigger than you think. Very good news for any brand out to change the world and leave a lasting legacy. 
There's a significant social shift that's been underway for some time fueling this; our new COVID-19 world has accented it. Once-untouchable, stalwart institutions like government and even organized religion have been steadily losing their age-old perception of invulnerability and trust, eroded by exposure, scandal, ferment, and in-fighting. 
Assuming the role of principled, steady-handed leadership in peoples' minds (and hearts) today: brands. Brands engaged in, showing up for, championing all kinds of causes beyond simple consumerism. 
"Have a Coke and a Smile – don't forget the social change, too." This has moved way beyond the selling of things. In fact, we would argue that in order to make any kind of a sale today, your brand first needs to make a statement. You need to be in the conversation, and it needs to jive with who you say you are. DEI, sustainability, business alliances, working conditions, community benefit – what's your story? 
Making a statement is taking a position. Taking a position requires heart. Combining heart with business isn't exactly taught in schools and isn't traditionally invited into boardrooms. And yet, you can't not stand for something now. Audiences want to know what matters to you. 
Here are two things to be ready for as you move your brand into what might be new territory for you:     
YOU WILL BE CHALLENGED. Much like this post, you can't say everything all at once. Nor should you ;-) Roll out your position in a steady cadence of both messages and actions. Engage and invite discussion in social channels. This is not about defending a position as much as it is demonstrating involvement and a commitment to transparency. 
YOU WON'T BE PERFECT. Humility is maybe the most human trait there is for a brand. Admitting what needs fixing, showing progress – these show a vitality, a living-breathing connectedness to growth and change and improvement your audiences (and the world in general) are longing for. (And very much following along with.)    
Doing this takes courage, bravery, leadership. It's difficult. And it's inspiring. Are you ready?